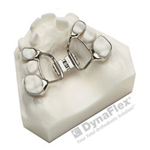 The "butterfly" or palatal expander widens your upper jaw by putting gentle pressure on your upper molars each time an adjustment is made. During the ages of 7-9 years of age, the upper jaw is quite pliable. Greater success is achieved with true skeletal changes ( jaw width) rather than just simply tipping the teeth outward. Dental tipping is not desireable nor stable for long term benefits.
Once you have achieved the desired expansion, you will wear the appliance for several more months to hold the expansion and allow the skeletal changes to become permanent.
Here are some animations below to reinforce the instructions that will be given to you at your first expander insertion appointment.
Adjusting the palatal expander
You can also download these instructions in a printable PDF document.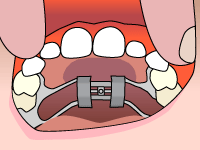 Step 1
In a well-lit area, tip the patient's head back and position their chin upward. This position creates the best visual perspective.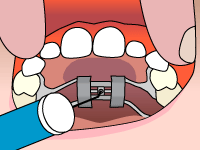 Step 2
Place the key in the hole until it is firmly in place. Insert the key fully to the bend in shank of key. This bend in the shank is a safety feature that prevents the accidental poking of the patient.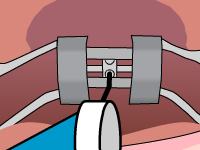 Step 3
Push the key toward the back of the mouth. You will notice the expansion screw will rotate and a new hole will appear. The rotation stops when the key meets the back of the expander.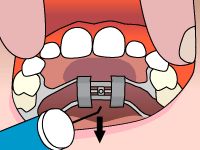 Step 4
Press back and down toward the tongue to remove the key. This step is critical to avoid turning the key backwards and undoing the turn you just completed.
The next hole for insertion of the key should now be visible. If the next hole is not completely visible, place your key back in the initial hole and turn further to get the next hole more visible.