Welcome to Erik Swanson Orthodontics

In an Age of Distraction, We create Smiles that get Noticed
Worried about missing work or school for braces and orthodontics? With Erik Swanson Orthodontics of Los Gatos, CA you and your child may never need to! Our caring experts craft Exceptional Smiles from 7:45 am to 6 pm.
We accept most insurances and offer affordable payment plans for braces and orthodontics. In fact, I never want to let finances get in the way of you getting the Exceptional smile that you deserve. We will customize a payment plan that works for you! Family discounts are available too.
Worry-Free guarantee - When you become a patient, you will have my personal cell phone number !
We are the Highest Rated INVISALIGN provider in the Los Gatos area. We are proud of our PLATINUM provider status. Don't just take our word for it--- check us out on www.Invisalign.com.
If you have met with another Los Gatos area orthodontist already, we offer complimentary second opinions. In fact, I recommend you do your research, because ultimately, you have to trust and feel comfortable with the orthodontist and type of treatment you choose for you or your child's orthodontic care.
Whether you are looking for Invisalign or braces for yourself, your child, or your entire family, you are in the right place at Erik Swanson Orthodontics of Los Gatos CA. We always provide a friendly, consultative approach to you or your child's potential orthodontic treatment. I say 'potential' because you or your child may not even require braces. We will discuss all of your options for braces and orthodontic treatments, and together we can decide which one is best for you. We offer Invisalign, clear ceramic braces, and metal braces. We even offer braces that can give you results in half the time!

At Erik Swanson Orthodontics, we understand the importance of keeping up with cutting-edge technology when it comes to the health and appeal of your smile. Using the power of our Silicon Valley technology, we provide more comfortable, faster, and more accurate braces and Invisalign.
You will be amazed how there are virtually no wait times and how efficient our self check-in service is.
I look forward to meeting you!

Keep Smiling,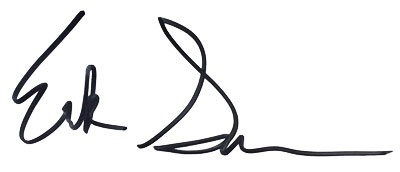 When you are ready, call 408-884-8969 or click here to schedule your Erik Swanson Orthodontics Smile Analysis, which includes a comprehensive exam, personalized consultation, x-rays, and even 3-d computer modeling ($249 value, yours free).