A Passion for Helping Others
I love being an orthodontist and can't imagine a more fulfilling profession!
From an early age, I always loved helping people. During my time as a Captain in the United States Army, I was blessed to serve the dental needs for America's men and women in uniform. Today, I am grateful to serve such an amazing community as Los Gatos, CA and its surrounding neighborhoods of Saratoga, Campbell, and San Jose. I am in a unique position to change my patients' lives while building genuine, lasting friendships with them. It's a joy to run into current and former patients, as well as their families, and be greeted by big, beautiful smiles! Whether we see each other on the court when I'm coaching, running the Great Race together, or walking my weimaraners along Santa Cruz Ave, my patients — my friends — are quick to share their Exceptional Smiles !!
Correcting someone's bite makes a lasting and positive change for that person. When you know your teeth are healthy and beautiful, you feel better about yourself and your confidence blossoms. That leads to greater success at school, work, and in one's personal endeavors.
Orthodontic treatment is more than creating smiles, of course. Properly aligned teeth reduce stress on the jaw, face, and neck, which can decrease muscle and joint pain. In addition, properly positioned teeth are much easier to keep clean, and that decreases the likelihood of future dental disease. Orthodontic care can also help people who suffer from obstructive sleep apnea.
While many people think about orthodontics as being about appearance, it's so much more!
Education and Commitment to Further Learning
Doctorate of Dental Medicine – Harvard School of Dental Medicine

Master of Science in orthodontics – University of California San Francisco
The courses I took for my doctorate and postgraduate master's degree were rigorous and provided an excellent foundation in the science and art of orthodontics. However, ours is a constantly evolving specialty. Amazing advances in technology, as well as techniques and materials, are revolutionizing the field.
Each year I attend national, regional, and local conferences and seminars. I also participate in online orthodontic forums and lecture series, attend Invisalign® and SureSmile® events, and study Airway-Focused orthodontics to treat obstructive sleep apnea. Also, I lead several dental study clubs and provide clinical mentorship and continuing education to dentists.
By staying current on research and data-driven results, I'm able to bring the best to my patients. I'm particularly enthusiastic about the possibilities offered by technology. From more comfortable diagnostics and treatment to accelerated care and truly individualized treatment planning, I ensure my patients are receiving the right care for their new smile!
Professional Memberships
American Association of Orthodontists
Pacific Coast Society of Orthodontists
California Association of Orthodontists
American Dental Association
California Dental Association
Santa Clara Dental Society
Beyond the Practice
I grew up in the Central Lakes region of Minnesota, near the Dakota border. We played nine-man football (two less linemen) due to small school sizes! I graduated with eight other boys in my class.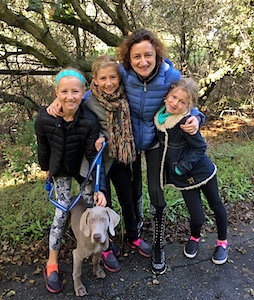 I am proud to call Los Gatos my home. My wife, Dr. Diana Swanson, is an endodontist (a dental specialist in root canals). We met at Harvard while taking ballroom dance classes — way before "Dancing with the Stars" became a TV hit!! We have three lovely and energetic daughters: Maya, and our twins, Mika and Zoe. Our family also includes two weimaraners, Laika and Sochi, as well as two orange cats, Carmel and Taffy ... things that orthodontists love! Blue Sky is our family's betta fish.
When not working, I'm with my family. My girls are on the Northstar Ski Team in Tahoe and play on competitive tennis teams too. I'm also a former volleyball and girls basketball youth coach. We travel a lot: whether exploring our national parks, going on fishing adventures, or venturing to new and exciting destinations.
I love the outdoors, architecture, and all things aquatic (fish, waterbugs, turtles). Looking back, I can't believe how generous my parents were to let me have so many aquariums as a kid. It's a good thing "most" did not escape into the house. I also love books and the color yellow. My favorite sport is basketball. It is amazing to have the Warriors as my home team!
In the Community
I grew up in a small rural community, where we relied upon our neighbors to be able to get our harvests in and our animals cared for. This mentality has carried over to my love for living and working in the same community here in Los Gatos. We all win when our community wins!
I'm honored to serve my neighbors and fellow friends. My office takes pride in being the most involved office in our community. We are the leading orthodontic practice in donations, corporate sponsorships, and volunteering endeavors in our Los Gatos area including Saratoga, Campbell, and San Jose.
Interesting Things About Me
I have worked as a: cattle ranch hand along the Columbia River, singing waiter in a 50s diner, background actor in Hollywood, Fred Astaire dance instructor, as well as both a shampoo factory and aluminum extrusion midnight shift factory worker.
My wife refers to the three years after college as my "bum" years as I worked to make money to travel.
I appeared on the front cover of Frommer's 1996 guide book for the U.S. Virgin Islands; I was there studying mongoose and feral cats on the island of St. John, which was a great way to get away from Minnesota's cold winters!
My wife and I spent almost two months in Sydney, Australia, on loan from Harvard Dental School. Sydney was copying Harvard's method of problem-based learning instruction and we were their guides.
I played five collegiate sports while at Hamline University in St. Paul: football, basketball, cross country, indoor track, and outdoor track.
I was an Army Captain, and served as a dental officer in the deserts of Southern California at Ft. Irwin.
I won a milk carton boat racing contest; my design was an upside-down cow!